We want to extend a big thank you from all of us at ExhibitDEAL to everyone who attended our Grand Opening event. We hope all of you who could make it to the unveiling of our new showroom enjoyed yourselves. Hopefully it was an energetic and enlightening experience full of meeting new people. Attendees were able to network with other business owners, learn trade show success tips from industry veteran Rick Goldman and experience our production process first hand like never before.
And what trade show event is complete without take home swag? In addition to exquisite food and drink, visitors were offered an always useful handbag and carved wooden puzzle to master.
Did you sign up for the raffle to win a FREE 10ft display? We ended the night's festivities by unveiling the winner of the grand prize, Juan Ceballos from Icon Network! Juan will have his choice of our most popular tension fabric display systems: the 10ft TuboZip or Tenso pop-up backwall valued at $1000!
Our clients often ask our sales team about the printers and techniques we use to achieve such high resolution reproductions of their art on a large scale. Without our production process we've perfected over more than a decade, there could be no ExhibitDEAL. It is no wonder why we are so passionate about what we do. From our traditional 1200 DPI authentic Hewlett Packard inkjet printers, two new fabric transfer printers or our in-house product testing and assembly, every step of the process is designed to give you the best looking and highest quality product possible.
One of the most eye-catching attractions we had running during the event was our wide format dye-sublimation heat press. We very much enjoyed sharing the science and finesse required to transfer art from the printed paper to our high quality washable fabric.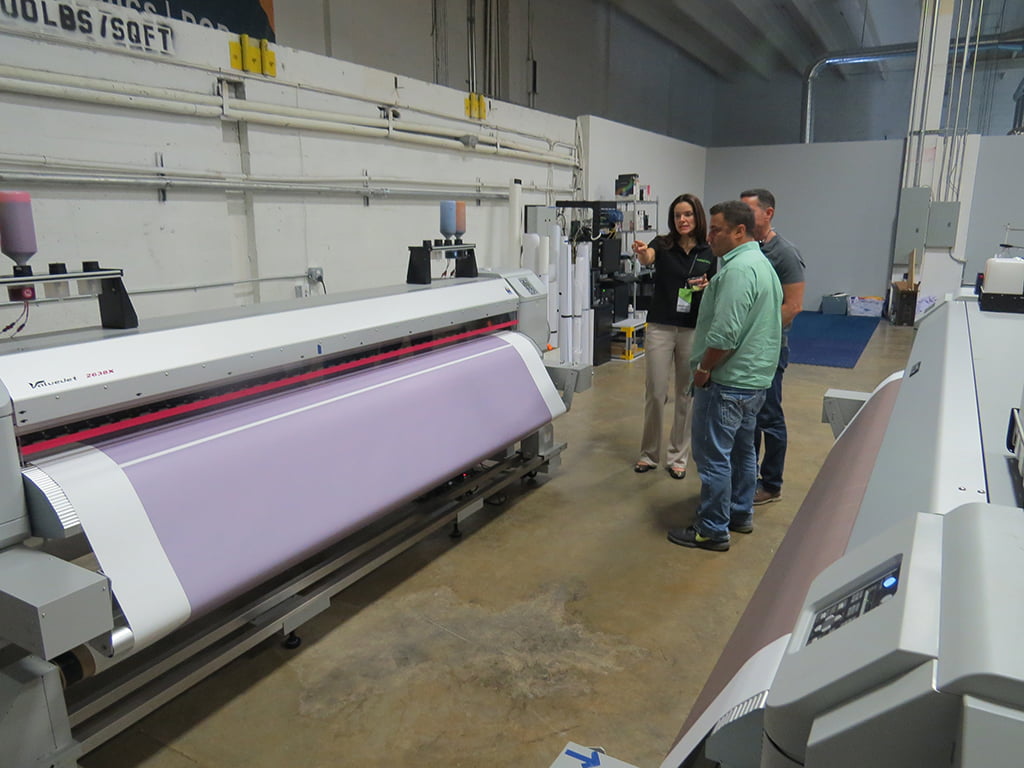 Our two new transfer printers and their heat press used to finish the paper prints onto fabric have become the crown jewel of our in-house production. Producing all manner of fabric trade show displays big and small now accounts for the majority of our customer orders. Since opening our fabric display department, our production team has tripled in size and we are showing no signs of slowing down!
Pushing the envelope to achieve the latest printing techniques and product designs is very important to our mission. Our new facility houses one of the only heat press fabric transfer machines of this size in all of Southwest Florida.  Investing in a dye-sublimation heat press that can accommodate prints more than 104″ wide encourages our client's imagination to run wild with custom booth layouts like never before.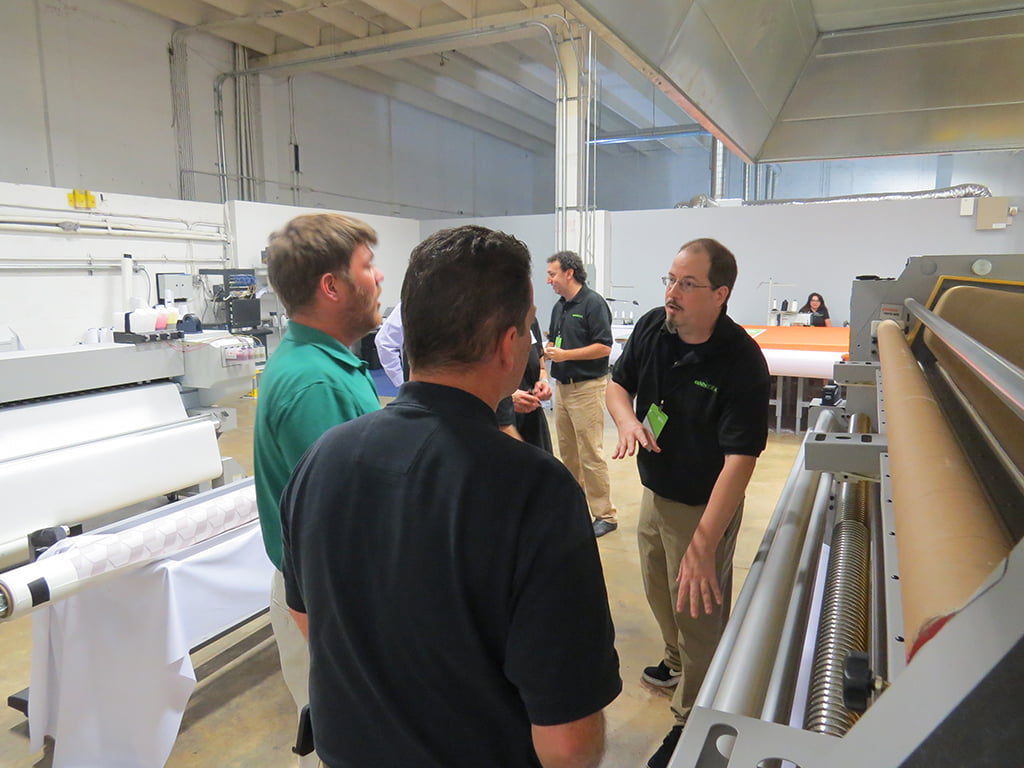 The sublimated end result appears before your eyes as muted, pale colored prints roll through the felt drum barrel at 400° and appear out the other side as fully dried, now vibrantly colored finished prints. Our production team is always excited by the response shown toward seeing the process in live action.
The showroom opening really shined as an informal opportunity for our customers, both newcomer and veteran to get hands-on with our trade show displays and accessory options. The entire ExhibitDEAL sales team engaged in answering questions with personalized tours of our facility. The new showroom offers diverse examples of classic 10ft and 20ft popup photomural and fabric backwalls as well as more custom solutions like an L-curve corner wall, Silicone Edge Graphic (SEG) Lightbox or even a Star-shape 3-sided freestanding island booth for a 20 x 20 space.
An experienced trade show exhibitor knows that getting noticed by attendees or not makes all the difference. A successful conference is about being able to show you generated a stack of qualified contacts, versus just another marketing expenditure so your team can say "yeah, we were there." When your company is represented in their booth on exhibition day, they need unique tools that help them not only stand out, but be remembered.
For many exhibitors, an all purpose banner wall or curved pop-up is a good fit that represents your brand professionally across a variety of industry conferences. But when the budget and setting allow for something a little more creative, our gallery includes many brilliant choices to help you turn eye contact into a firm handshake. We know that the more your brand gets noticed and remembered, the more likely they are to reach out to you to do business after the show.
Having an eye-catching, professional display with a good message is only half the battle however. Ultimately it is up to your booth staff to capitalize on the attention you get from that cool setup. Unless you have been to a few trade shows, many people find themselves floundering to introduce themselves without much of a game plan. So to help give everyone some clever tips to help them exhibit like a pro, we brought in someone who knows a thing or two.
Once everyone had a chance to eat, drink and get to know each other we gathered around to learn trade show strategy from one of the best.  Rick Goldman, owner of Ad Excellence and experienced industry expert was the guest speaker who shared his insights that have made his advertising agency a success for over 20 years.
During his presentation, Goldman notably pointed out how to capture your attendee's attention while generating a bit of jealousy in your competitors. Other booths at the show will see how many people are carrying your brand collateral and gifts versus another. This creates an idea in your competitor's mind that these booth visitors have already been "claimed" or sold by your brand and there is no point in them spending time to get their attention.
Another comment we often hear is that it is difficult to get noticed. There are so many types of displays in varying sizes. It is easy to be overshadowed by the company next to you, especially if it is a large enterprise level brand with a huge budget for marketing. For the "mom and pop" shop and other small businesses it is easy to feel lost in the crowd. As Goldman discusses, finding opportunities to make your marketing clever and unique are crucial to having a successful trade show presence.
When visitors at the event were asked what their biggest trade show challenges are they often said "timeline!" Managing the timeline up until the show can be very hectic. Making sure brand materials are ordered, flights are booked and lodging arrangements are all made can be overwhelming. From the agency side, a customer often comes with a concept and art far too close to their exhibition date. This makes every step in the preparation chain more rushed, even forcing a representative to pick up their display on their way to a trade show.
Being noticed at an event, however is not worth much if your booth team is not skilled in sales and networking techniques so they may capitalize on your investment. Being personable and looking for the right opportunities to connect with a trade show attendee so they remember your brand can make all the difference. Make sure they leave with a positive and memorable impression of your brand. When possible, the ever popular trade show giveaway item or "swag" can be that extra reminder you need when months down the line that visitor has a need and is more likely to think of your company to fulfill that need.
We hope you enjoyed this inside look at our full service exhibit production and our showroom assortment of fantastic finished display styles. It was a rare occasion to be able to welcome so many guests to learn about a process we are so passionate about. If you missed the event, check out more images of the fun and we hope to see you next time!
A special thank you to all our sponsors and vendors that helped make the night such a success. We couldn't have done it without local musicians, Night Court and delicious hors d'euvres by Chef Fab Culinary. Complimentary vodka tasting kept the cheer going, courtesy of Lucky Player.
Have questions about how to get started with planning your next trade show event? Backwall displays, accessories, custom projects and branded giveaway items – whatever your needs ExhibitDEAL has you covered for all your promotional needs. Get in touch with our exhibit experts at Sales@exhibitdeal.com or 866-577-DEAL.